To install INTELICODE® for use with Microsoft SQL Server, you will need to:
1.Download Intelicode®.
2.Have Microsoft SQL Server 2014 or greater (2019 or newer recommended, 2016 and newer are 64 bit only), any version (Express through Enterprise, not included).
3.If you need to install Microsoft SQL Server, you can find a manual here: intelicode.com/support. Here you can find the links for the programs necessary and have a step-by-step walkthrough as well.
4.Have Microsoft SQL Server installed on your local machine or network server. A database will need to be created named "Office" and one named "Provided" (suggested names, they can be different if needed).
5.Configure your user access and permissions to those databases for the users that will access them. Write permission will be required for usage, "db_owner" is recommended for updates.
6.Install Intelicode® on a machine that will have access to the SQL Server.
7.Start Intelicode® and then at the Login click on the Options menu.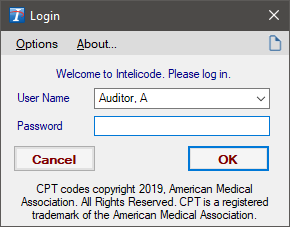 8. Select Administrator Panel from the menu. If you have not yet been into the Administrator Panel, it will prompt you to create and then verify the password into the two input boxes (if you are connected to a database).
9. If one input box is present, then an administrator password has already been created, and you will have to enter the password that was previously created. Please contact your system administrator for assistance. If the administrator panel password cannot be obtained, contact Intelicode Support for password reset (fees may apply.)
10. Once you have opened the Administrator Panel, click on the File menu and select Connection Settings.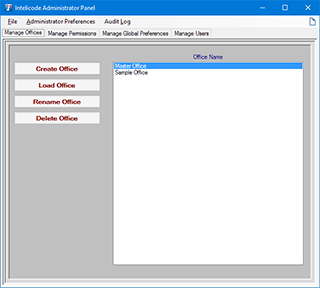 11. Enter the appropriate information for your SQL Server.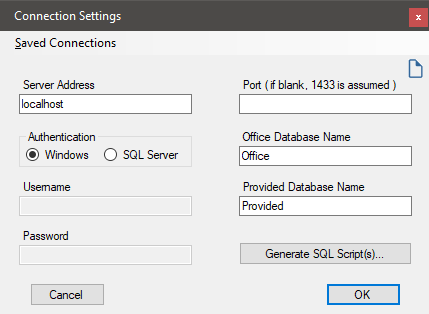 12. Enter the Server Address (hostname or IP Address) of your SQL Server and the Port if you have changed it from the default of 1433 (it is common for the Express version to assign a different dynamic port). If not, it may be left blank.
13. Select the type of SQL Server Authentication. If "SQL Server Authentication is used, you must enter the Username and Password for the SQL Server account.
14. In the Office Database Name box enter the name of the Office database you created on the SQL Server. For simplicity, "Office" is recommended.
15. In the Provided Database Name, enter the name of the "Provided" database from the SQL Server.
16. To populate the databases with the necessary data, you will then click the Generate SQL Script button. This will prompt you to save a script for the "Office" database and "Provided" database.
17. Once you have created the scripts, you will need to copy them to your SQL Server and then execute them against the databases on the server.
Copyright © 1998-2021 Technology Solutions, Inc. All rights reserved.
INTELICODE® is a registered trademark of Technology Solutions, Inc. (TSI). All Rights Reserved.