Once installation is complete, you should see an INTELICODE® icon on your desktop.
To start INTELICODE®:
1.Double-click the INTELICODE® icon on the desktop or from the Start menu, then find the Intelicode folder, click on it, then click Intelicode. A small window will pop up titled Intelicode Evaluation.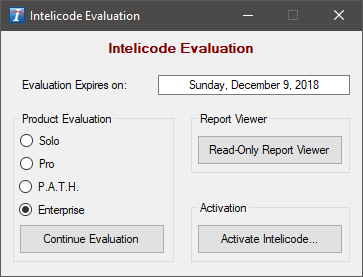 2.If you are evaluating Intelicode, select the product you wish to evaluate and click Continue Evaluation. The "Evaluation Expires on" date is for you to know how much of your trial is remaining.
3.If your subscription with Intelicode is current, click Activate Intelicode. A dialog will appear (as seen below).
4.Leave this window open. You will be required to give the System ID number in boxes 'A' through 'H' to activate your account.
5.Call the number shown to activate your subscription or email by clicking on Or activate by email at customerservice@intelicode.com link.
6.You will be directed over the phone or by emailed instructions on how to activate the subscription.
Note: Activation by email will not be immediate and is only available during regular business hours.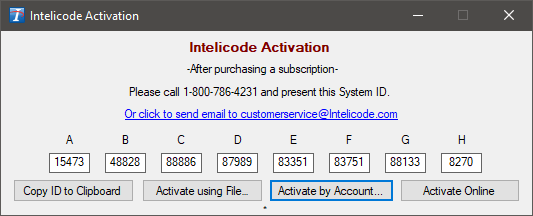 7.For online licenses purchased on our website you can click the Activate by Account button .
| | |
| --- | --- |
| | a. Click "Activate by Account" to activate using your online account. |
| | |
| --- | --- |
| | b. Enter the email address associated with your account and select the type of computer you are using, then click Find License. |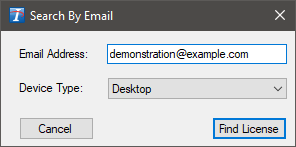 | | |
| --- | --- |
| | c. If you have not completed account registration, you will be prompted to complete it now. |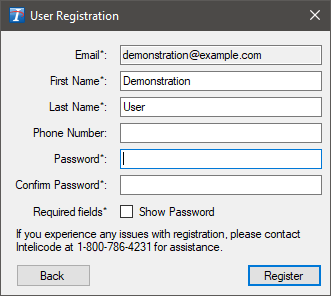 | | |
| --- | --- |
| | d. Your activation will be retrieved now. If you have been given access to multiple activations, you will be asked which you want to use. |

| | |
| --- | --- |
| | e. If your user account or activation(s) are not found, your organization's primary contact will need to reserve licenses for you through our website at Intelicode.com. |
Copyright © 1998-2023 Technology Solutions, Inc. All rights reserved.
INTELICODE® is a registered trademark of Technology Solutions, Inc. (TSI). All Rights Reserved.